Same sex marriage should be legal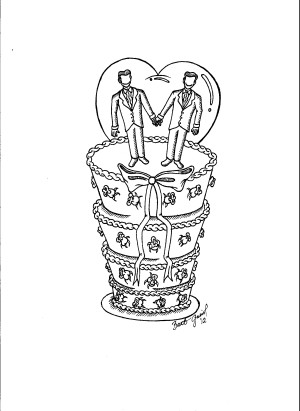 .
March 13, 2012 • Maggie Monson, Viewpont Writer
Filed under Viewpoint
Love is love. Love is the same no matter what nationality, age, or race the couple is. And love is the same no matter the gender.
Same-sex marriage should be legalized in all 50 states. In recent months, many state legislatures have begun to examine legalizing same-sex marriage. Maryland was the most recent state to pass the law, becoming the eighth state to do so, in addition to Washington D.C. More states need to push these laws because less than a fifth of the nation's same-sex couples are currently allowed to get married. In a country founded on equality, to deny marriage to such a large number of people is wrong.
Same-sex couples deserve the same rights as heterosexual couples because their gender is the only differing aspect of the relationships. The love that exists between two men or two women is the same as the love between a man and a woman.
"I think that love is a different experience for everyone. You feel it in a different way and experience it differently, but all the basic stuff is still there [in a gay relationship]," said Patrick Broderick, junior and co-president of the Gay Straight Alliance (GSA). "For what I've felt and what I've heard from people who are gay, [the feelings] all sound the same to me."
Many disagree with same-sex marriage because they feel it takes away from the traditional idea of marriage. However, marriage is no longer only a religious institution. More and more frequently, marriages occur outside of churches and between people who do not necessarily have a specific religion.
"A 52 percent divorce rate and the fact that the whole institution of marriage is such a broad thing makes [marriage] more than just a religious thing," Broderick said. "If you're going to tie it into the government with [legal] rights, you cannot just say that it's not about the sanctity, especially because it is being taken down by any number of cases. Everyone loves to use the Kim Kardashian example. If she can get married for only 72 days and get divorced, why can't two people who want to live a long, happy life together get married? Where's the balance there?"
In addition to creating an atmosphere of equality, allowing same-sex couples to get married would make more stable families. Having two loving parents is enough for a stable, healthy environment for a child, whether there are two moms, two dads, or one of each. Open-minded parents will allow their children to choose their own paths. Children of same-sex couples will not necessarily feel pressure to follow in their parents' footsteps.
"It's hard for me, because I always try to look at both sides of the argument and see where everyone comes from, but sometimes it's so odd to me that we have so many children who end up going to orphanages and don't have a proper home who could be raised by proper parents," Broderick said. "Just because you have gay parents doesn't mean you're going to have gay children. Neither of my parents are gay."
Legalizing same-sex marriage brings a benefit to the institution of marriage while excluding same-sex couples from the right to get married is discrimination based on sexual orientation. This kind of discrimination is not allowed in schools, the workplace, or recently, the army. There is no reason why discrimination should be allowed when it comes to marriage.
"When we're in GSA and we talk about it, we always talk about how civil rights always win in the end. It's an inevitable thing. People end up fighting it, but if you look at the track history, it's just a matter of time before we get there," Broderick said. "With the progress we've made so far, we'll be there eventually. Until then, we will keep fighting."