Young adults, teens need to get more involved in politics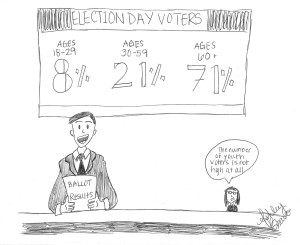 .
April 4, 2011 • Josie Bonefas, Features Editor
Filed under Viewpoint
Americans who do not vote are idiots. Literally. The word idiot originates from the Greek word idiotes, which referred to citizens who did not vote or were not involved in public life.
Today's society should have a similar view of non-voters, who, statistics show, are mostly young adults. Young voters should be more involved in politics because they need to support their beliefs in elections. They will be more content with government decisions if they exercise their right to vote.
In the 2010 election, voter turnout for people over the age of 65 increased 16 percent. In contrast, voter turnout for youth decreased 55 percent, according to Project Vote's website, dedicated to election and voting information.
Americans, especially young voters, need to go to the polls and vote for what they believe in. If young people do not cast their vote, their opinions and their political party's opinions will get overlooked and disregarded. If young people want change, they need to vote for it, as the majority of older people are currently doing.
"I'd say [older people vote more] because you start to understand politics a little better. You see how it directly relates to every aspect of your life, your paycheck, your taxes," Chris Lagioia, government teacher, said. "It kind of hits you more as you get older; you own a home and pay a mortgage, there are things you want to purchase, and you see how the laws affect you more and more."
Although older people have more experiences relating to how the government affects them, younger people should be more involved in politics and care about what happens at the elections, too. Everyone in this country is affected by the government and the decisions it makes. Everyone should want to have a hand in deciding who will be making the decisions.
The overall voter turnout was at an all-time low for the 2010 election: 66 percent of eligible voters did not vote at all. One possible explanation for this is that the election was an "off-year election," one that does not include a presidential election, according to Project Vote's website.
"A lot of times there are difficult elections to vote in – they might not like either candidate – but I think it's better to vote and have an opinion in a democracy versus not voting at all and then complaining about the decisions that the government makes later," Lagioia said.
If young people do not vote, they will continue to complain about how the country is being run without actually doing anything about their disapproval. People would feel that their voices are being heard if they voted. People who vote can help support their beliefs through candidates' platforms.
Although there are possible explanations for the 2010 voter turnout, the statistics for the 2008 presidential election show similar facts about voter turnout for the younger age group.
Voters ages 18-29 make up 21 percent of the eligible voting population, but in the 2008 presidential election, they made up only 17 percent of the actual voting population. Also, less than half, 49 percent, of 18 year olds are registered to vote, according to Project Vote's website.
The initiative toward wide-spread voting starts with high-school students. Students who are approaching the voting age should tune in to political current events to get informed. Government decisions affect all people, no matter if they are of voting age or not. Also, sooner or later, all students will be of voting age, and then it is their duty to vote.
In the long run, the goal is for more of the populous to actually vote, but at the same time the voters should be making informed and intelligent choices.
"I think ultimately, regardless of age, we want to see people who are informed [and have] done their research, make an educated vote. I think the key is younger or older, they should be voting, but do the research and try to vote as an educated citizen," Lagioia said. "The person needs to do their research, they need to find out the political stances of the candidates on multiple issues, and use multiple sources."
Non-voters of all ages have no right to complain about how the country is being run because they have the right to vote, but it's up to them to exercise their right. Involvement in politics is a must for citizens who want to be content with their life and country.