Track and field sprints into season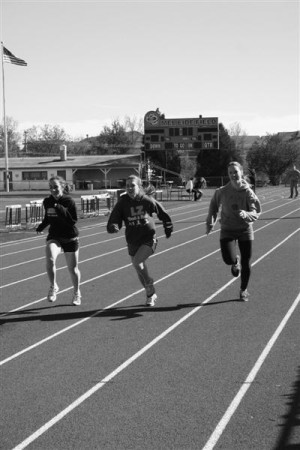 .
April 17, 2012 • Kat Pauli, Sports Writer
Filed under Sports
For two years running, the boys' track team has been conference champion and the girls' have won conference and county champion. This year, both teams are attempting to three-peat.
            In the off season, the teams practiced indoors and attended indoor meets throughout winter to get ready for the outdoor season. Since then, both teams have competed in meets and placed well.
            The outdoor season started in the beginning of April and will continue into May, with Sectionals at the beginning of the month, and girls' State Thursday, May 17 and boys' State on Thursday, May 24.
            During the season, both teams had before and after school practices throughout the week, and also practiced through Spring Break to maintain their competitive edge.  The teams are looking towards State as their goal, and have been working hard to get there.
            Although they compete in all the same events, the boys' and girls' teams are two separate teams, just like soccer or tennis.
Girls' varsity track and field:
The team has already competed in about half the meets for this year and has placed well in many of them.
             The girls started practicing as a team in January, both before and after school, to prepare. They also competed in preseason meets at Maine South High School and North Central College.
            "We believe in working hard whether we are competing or not," Lance Pacernick, head girls' track and field coach, said. "The preseason practices are really good for getting the girls in shape, and it gives us a good idea of what we're working with."
            The events featured in track and field fall into three categories: running, jumping, and throwing.
            "I think we are strong in all the events," Tricia Edelmann, sophomore, said, "especially the relays, because we've got a lot of really fast girls that work well together."
            The girls started competing in outdoor meets in early March, starting with the Proviso East High School Lady Pirates Invitational, where they placed third. They have continued to do well since then, placing in the top three in the majority of their meets so far.
            "I think we have a really good chance of going far this year and doing well. We've got a lot of talented girls in all the events," Edelmann said. "I think our biggest challenge will be living up to expectations, because we were champions in the Conference and the County for the last two years, and we had two girls place eighth in State last year: one for the 400 [meter dash] and the other for 300 [meter] hurdles."
            The girls' next meet is this Saturday, April 21 at Glenbard West.
Boys' varsity track and field:
The boys have been hard at work all season, starting in January, with before and after school practices, as well as attending three indoor winter meets. The boys practice before school Tuesday through Thursday, depending on their specialty (throwing, hurtling, jumping), and after school every day. Their practice schedule is intense, and the boys continued to practice through Spring Break and competed in an Octathlon that week.
In the first indoor meet, the boys took second, and in the last indoor meet, an invitational, they took seventh overall.
 "[This year is] like a rebuilding year, so we'll get to where we need to be at by the end of the season," Mike Rantis, senior, said.
They competed against North Chicago in their first outdoor meet and won. They also competed at Zion-Benton and placed well there as well.
The biggest challenge of the season will be getting all their events to where they need to be, skill-wise, according to Rantis.
"I think our field events are our biggest struggle," Rantis said. "We have a bunch of sophomores. We're very young there."
            Despite the team's young age, the boys are strong in many events. They have many seniors returning to the team as well, according to Rantis.
            "Our [strongest event] is the 4 x 4, because me and my brother are returning and we have two other strong runners, and probably the mile, because we are returning Juras," Rantis said. "And the 100 and 200 because of me and Connor Schrader [senior] returning to those events. Also, the 800, because [Chris Rantis] runs that."
            The boys' next meet is this Friday, April 20 at home at 5 pm.