Lacrosse on the rise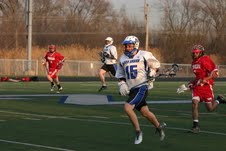 .
March 13, 2012 • Adam Griffith, Sports Writer
Filed under Sports
When the Lake Zurich boys' varsity lacrosse team takes the field for their first game on March 20, they will open the season with a new team, a new bond, and a new message: lacrosse is getting big at LZHS.
While the club itself has grown in numbers over the span of a few years; the lacrosse team has also progressed in skill and team bonding, a crucial aspect that holds the strength of the players together.
"I'm really excited for the connection we've made on the team," Grant Soucy, junior, said. "We're all just much more closer than last year and I think that will help us become a better team."
Also adding to the varsity teams' increasing skill is the skyrocketing interest and participation in lacrosse at Lake Zurich. Since their inception in 2008, the program has seen an 88 percent increase in participation. 
"My understanding is that there may be cuts being made this year because of the high number of athletes registered," Rolando Vasquez, athletic director, said. "There are so many kids signed up that everyone is not able to play so you run into the problem where kids aren't playing in games, which is frustrating because they put all the time and effort and paid all their fees and wind up not playing in the game."
As the program grows and the teams become more competitive, veteran players such as Soucy look forward to seeing the improvement on the field.
"Last year we made it to the semi-finals. I think we'll do just as well this year if not better," Soucy said.
            While not an official IHSA recognized sport, the IHSA.com states "boys lacrosse is considered an 'emerging sport' by the Illinois High School Association.  In October 2009, the IHSA Board of Directors approved a state series for the 2010-11, but only if at least 65 boys teams and 40 girls teams entered the tournament.  Those thresholds were not met, and the Board delayed the inaugural tournament indefinitely until participation in lacrosse increases."
            Lake Zurich is one of those schools which recognizes boys' lacrosse as a varsity sport.
            "Every year, I have to go [to the IHSA] and say we are recognizing boys' and girls' lacrosse. And while they aren't an official IHSA sport, they still have to abide by IHSA rules as far as eligibility and attendance and so on," said Vasquez. "The IHSA is looking for a certain percentage of schools to check 'yes, we are recognizing lacrosse,' but it just has not been met yet."
            Since lacrosse is not officially recognized by the IHSA with a State Series, some fans are unable to understand how there could still be a varsity lacrosse team. This is where the Illinois High School Lacrosse Association comes in. The IHSLA is the league in place of IHSA, who put out a tournament towards the end of the season that could be considered the replacement of an IHSA State Series.
            "So ultimately, do they have a varsity team? Yes. Could they win a state title? Yes, it just would not be an IHSA state title," said Vasquez.
            While the IHSA might not see enough increase in interest, Lake Zurich's statistics contrast that. With a massive increase since 2003 (see side bar), LZ LAX continues to grow.
            "We've been able to add more levels to the program," Vasquez said. "The boys will have three or four levels, and the girls are going to be at three this year, which shows growth because not too long ago they were only at two."
            IHSA officials and athletic directors are looking at numbers and participation exponentially growing, while players watch the sport they love build around them.
            "It's such a fast game, everything you do is 100 percent and you never stop. It's just so exhilarating. And it's not like football where you have a certain spot to be and position. There is a lot more freedom and I like that a lot," Soucy said. "I've played lacrosse ever since I was in fourth grade, and there wasn't even a high school team back then. But now, it's such a big part of our school and a lot of people play it and take it more serious. It's really great to see."