Bears end regular season with win over Zion, move on to playoffs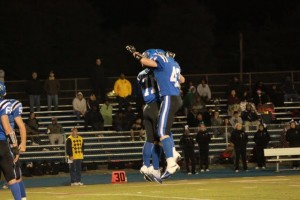 .
October 23, 2011 • Renee Griffin, Sports Writer
Filed under Sports
The football team defeated Zion-Benton on Friday night in the last game of the regular season, with the final score standing at 41-3.
The win places them at the top of the North Suburban Conference in a three-way tie with Stevenson and Lake Forest, both of whom also won on Friday. It marks the first time the Bears have won a division title since 2007, when they won the State Title as well.
With playoffs looming, the Bears put together a dominant performance against the now 3-6 ZeeBees. Senior quarterback Zach Till had five rushing touchdowns, finishing with 10 rushes for 49 yards. His five TDs broke the single game TD record at LZHS.
Senior running back Mike Shield had 57 yards on 11 carries, while junior running back Connor Schrader had 36 yards on 5 carries.
The defense and special teams were major contributors to the victory, as senior Chris Rantis blocked a punt recovered by senior William Hussey in the end zone for a touchdown. The defense also had an interception by junior Grant Soucey.
LZ's defense held Zion scoreless until the closing seconds of the game, when Zion kicked a 27-yard field goal for their only points.
With a 7-2 record, LZ can now begin to prepare for playoffs, hoping to improve on a 2010 season where they finished second in the State Championship.