Bears top Warren Blue Devils Friday night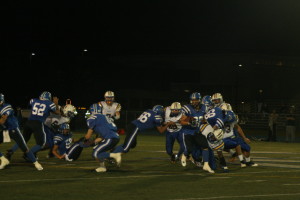 September 10, 2011 • Kat Pauli, Sports Writer
Filed under Sports, Top Stories
The Lake Zurich Bears had a big third quarter comeback after being down the entire first half, securing a win against Warren 33-14 on Friday.
After Warren scored two touchdowns in their first six plays of the game, senior Mike Leiva kicked for two field goals and a point in the first half after senior  Zach Till ran in a touchdown from 8 yards out. The Bears came out strong in the second half to hold Warren to the 14 points they scored in the first half.
Lake Zurich's special teams lived up to its name, scoring 19 of the Bears' 33 points.  They carried out a key play for another touchdown, including both a punt return for a touchdown and a blocked punt. Leiva contributed to the second half score with two more field goals. Two of his four successful field goals were kicked from the 39 and 40 yard lines.
Other highlights from the game were a late 54 yard punt return for touchdown by senior wide receiver John Orlando and a recovered fumble in the Lake Zurich end zone by senior Mike Shield.
Lake Zurich's defense improved as the game progressed and was successful in the second half, shutting Warren out after the first quarter.
The Lake Zurich student section was covered in red, white, and blue commemorating the 10 year anniversary of 9/11.  Linebacker Shield carried an American flag as the team took the field at the beginning of the game.
The win leaves the Bears at 2-1 with a home game next week against Lakes Community High School.