Football team suffers first loss of the season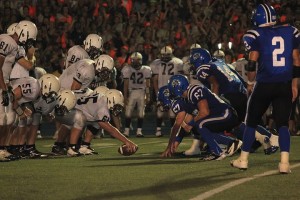 .
September 3, 2011 • Renee Griffin, Sports Writer
Filed under Sports, Top Stories
The LZ Bears football team suffered their first regular season loss since the 2010 Homecoming game against Stevenson on Friday night, losing to the Cary-Grove Trojans with a score of 7-10.
The Trojans scored a touchdown on their first drive of the game and then kicked a field goal before halftime, but did not score in the second half. The Bears remained scoreless until about the last minute of the fourth quarter, when they drove to the five yard line and senior quarterback Steven Kuhn connected with senior wide receiver Brandon Markert for a touchdown with 1:12 remaining.
The Bears then kicked the ball to the Trojans, who ran some time off the clock, but the LZ defense prevented a first down. Cary then had to punt to LZ.
LZ got the ball with 18 seconds left at their own 35 yard line, but could not continue the momentum of the previous series. The final play was an incomplete long pass that left the clock at 0.0 seconds.
The game was largely dominated by punts and defensive stops by both teams.
Comcast SportsNet made the LZ-Cary matchup their Game of the Week, so a camera crew recorded the games and will replay it over the weekend.
This loss leaves the Bears with a 1-1 record after a 35-3 win over Fremd in week one.