Fashion class gives back to the community with style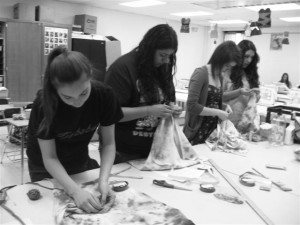 .
May 22, 2012 • carolyn busse, bear facts news writer
Filed under News
As a project, the Fashion I classes created dresses out of donated pillowcases to send to girls in Haiti.
Student teacher, Lauren Engelhardt taught students to turn donated tie-dye pillowcases into dresses. The completed class dresses will be sent to Haiti to help underprivileged girls. The project lasted only two days, producing sixteen completed dresses that will be sent overseas. Many other communities throughout the country are also participating in this project.
"This project is important to me because I've always been the one to volunteer, and now I'm teaching [my students] the fact that such a simple project can change lives," Engelhardt said.
According to an August Baltimore Sun Newspaper article, there are still more than 600,000 homeless Haitians living in tents after the 2010 earthquake. Because of this, the chances of girls getting raped, kidnapped, or murdered is significantly higher The dresses help give women more protection, because they appear to be taken care of and not simply street orphans.
The project is a good way to get children to start thinking about community service," Engelhardt said. "And the students seemed to enjoy working on it as well."
"I would do the project again. It was really simple and easy to do. I think a lot of people could try it," Grace Dillon, freshman, said. "It was really cute."
Englehardt was informed of the idea from a university supervisor who not only provided directions on how to create the dresses from pillowcases, but also offered to send them to Haiti for free, Englehardt said.
"I think it is cool because people in Haiti don't have many nice things in their lives, and the tie-dye dresses can bring color into their outfits," Dillon said.
Since the dresses are also a project for the students, they will be graded on their use of the proper measurements and sizing, how neat the dress looks, and how finished it is.
"I chose this particular project because I feel like it's a good way students can learn to understand that there are easy and quick things they can do to help others," Englehardt said. "And that is a lesson that I think is important for students to learn."