Italian Club participates in foreign language week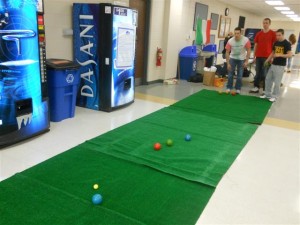 .
March 12, 2012 • Valentina Witkowski, Entertainment Writer
Filed under News, Top Stories
The way to success is the pathway to the stomach.
Italian Club, made popular though hard work, gelato sales, and red-white-and-green tie-dyed shirts, participated Thursday in Lake Zurich High School's Foreign Language Week. Club sponsor Gianni's Café provided the gelato and members created this day to celebrate Italia.
The club was started earlier this year and has been very active, even though LZ does not offer Italian as a language students can take.
"We knew we wanted to be a very active club," Dom DeMicco, junior, said. "We participated Thursday because Italian Club has yet to have a special event including students, besides selling gelato."
Of course the club did sell gelato, but they also expanded the activities to make it more interactive since they did it during all four lunch periods.
"We thought about would work as something people could participate in during their lunch. Soccer came to mind, but Spanish Club usually does that," DeMicco said. "We discussed a few small games we could do. Somebody brought up Bocce ball, so we tracked down a set and a member of our club had turf so we set that up."
For more entertainment, Italian Club members also set up Name-that-Pasta. They had a big box of pasta and players had to differentiate between famous noodle shapes, testing their knowledge to see if they could really tell farfale from rigatoni or gemelli from rotini. Participants usually raced their friends and a club member checked their game sheets to determine a winner.
Winners of Bocce Ball and Name-that-Pasta could put their names into a raffleto win one of five bags of biscotti or a $5 Gianni's Café gift card. At the end of the day they drew a final name to win a $10 gift card to Gianni's Café.
"Overall Name-that-Pasta was really successful," De Micco said. "Bocce ball was pretty popular, too. We hoped that people would come up for gelato but stay for the games."
The cafeteria sold pizza, pasta, and chicken parmesan to celebrate the event. Italian Club also played Italian music throughout the day.
It was an feast day of the senses thanks to Italian Club.
"We have good core group in the club," DeMicco said. "People that want to make it work have. With Mrs. Enright as our teacher sponsor and Gianni's Café as our sponsor and gelato supplier, this has been a very successful first year for our club."