GSA holds first annual Rocky Horror Picture Show movie night for Charity Bash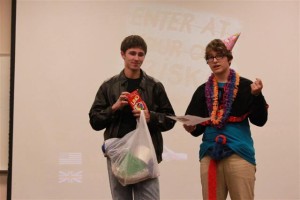 .
December 13, 2011 • Maggie Monson, Features Writer
Filed under News
The Gay Straight Alliance (GSA) held their first ever Charity Bash movie night Saturday, December 3, showing the cult classic Rocky Horror Picture Show.
Those who attended participated fully in the traditions associated with midnight showings of the movie, whose height of popularity occurred in the late 1970s to the early 1980s. Audience members yelled lines and cracked jokes, threw toast, and wore newspapers as hats during certain scenes, among other things.
GSA charged and entrance fee of $5 and provided free food for the audience members. The event raised over $150 for the Crohn's and Colitis Foundation.
GSA invited their counterparts from other high schools in the area to increase attendance. While there were few non-Lake Zurich attendees, Patrick Broderick, junior, said he hopes the movie night will be more successful in future years.
"GSAs around the area all kind of interact with dances and other events, which we take pride in as a club because it's an interesting network that we have," Broderick said. "I think that next year will be a much better, larger, more planned event."