Teachers improve fire drill attendence procedures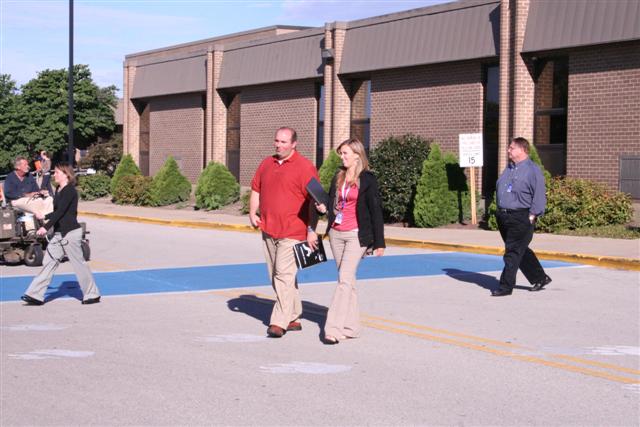 October 4, 2010 • Colleen McGee, News Editor
Filed under News
During this year's first scheduled fire drill, an informal survey conducted by Bear Facts showed that only 1 percent of faculty did not follow the correct fire drill procedure.
 "In terms of things we ask teachers to do, we ask them to bring out their gradebook, or any form of attendance such as a seating chart or laptop," Ryan Rubenstein, assistant principal of facilities and activities, said.
 Five years ago, in October 2005, Bear Facts conducted an informal survey showing that over 75 percent of faculty did not take any form of attendance with them during a fire drill.
 "Without a doubt, I am happy about the improvement from five years ago, however, I would like to see it at 100 percent," Rubenstein said.
 To be prepared for a real emergency, the administration schedules fire drills throughout different periods during the school year, Rubenstein said. 
 "I think it's a good idea to look at the areas with an influx of people. A few years ago we did a fire drill during a lunch period, which we have never done before. We wanted to see how we would handle that situation. It's always beneficial to take into account all scenarios," Rubenstein said.
 To be prepared for every situation, administration asked faculty members to go over fire drill procedures for each individual classroom.
 "Prior to the first announced drill I asked all the teachers, each and every period, to over the fire drill procedures with their students, so as students, you should have been hearing it six to seven times a day, depending on your classes," Rubenstein said. "Each classroom has its own separate procedure posted in the room, depending on the wing of the building they are in."
 However, on the day before the scheduled fire drill, some students say they only heard the classroom procedure during the period of the scheduled drill.
 "Only my second period teacher went over the fire drill procedure," Kiersten McAndrew, senior, said. "I think it would beneficial if all our teaches went over their specific procedures, so in case of a real emergency, we would know where to go no matter what period."
 Although, McAndrew's teacher went over the procedure, not all teachers followed procedure.
 "I would prefer [if teachers took attendance during the fire drill], however, it is not required," Rubenstein said. "It would be nice, in case of an actual emergency, that I could go to every teacher and quickly know if they have all their students accounted for."