Special Olympics held at LZHS, cancelled for weather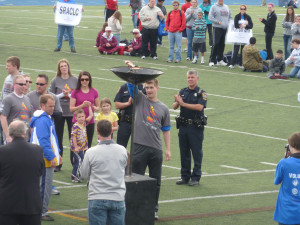 .
May 7, 2012
Filed under Features, Top Stories
The Special Olympics held at LZHS this year was cancelled about three hours after the opening ceremonies due to severe thunderstorms and lightning.
After a few hours of competition, a thunderstorm moving into the area caused the organizers of the event to suspend competition and move everyone inside the school. Then, when the storm showed no sign of stopping, the event was cancelled.
"There's no way an event like this could be rescheduled," Meaghan Gelinas, sophomore and Special Olympics volunteer, said. "There were hundreds of volunteers, and to get all the volunteers back, as well as the athletes and the coaches, would be impossible."
Special Olympics Illinois has different branches, and Lake Zurich is in the Area 13 Special Olympics. The Special Olympics Area 13 competition is an annual event held for special needs athletes in the area to compete for a chance to go to the state Special Olympics event. This event was held at LZHS for the second year in a row. This year, only some of the athletes got to compete before the event was called off.
Usually the gold place medalist in each heat or division qualifies for the state competition. Since some heats competed, those winners will go to state, but for the heats that did not compete, the state qualifier will be chosen randomly from each heat. 
"The two events the athletes can compete in are the softball throw and 100 meter dash," said Paige Abry, junior and SNAP member, said. "The 100 meter dash is held on the track and the softball throw is held on the softball and baseball fields. It's a shame some athletes didn't get to compete."
Even though some athletes could not compete, they still got to experience being part of a team.
"Special Olympics gives them a chance to be involved in competition. Throughout the day, everyone watches and cheers on their teammates," Abry said. "Even if some people didn't compete, they still got valuable friendships and connections."