New faculty joins LZHS: Laura Stanton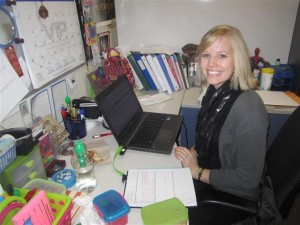 .
November 4, 2011 • Ashlee Czapla, Features Writer
Filed under Features, Top Stories
Being a student teacher is an old story for Laura Stanton. Stanton is starting a new chapter in her life by returning to Lake Zurich as a full time English teacher.
After teaching at Johnsburg High School this past school year, as well as student teaching at LZHS two years ago, Stanton has joined the English Department as an equal member of the team.
Stanton is excited to return to LZ with more power and influence over students. Her goal is to help coach students and teach them new skills and strategies on how to be successful in understanding and mastering English. Now with her own classes and responsibilities, Stanton also has the freedom to establish her own teaching tactics.
"Being in charge of a class by myself has allowed me to develop my own style of teaching," Stanton said.
Stanton is now teaching a college prep sophomore English class as well as both college prep and honors American Studies. In addition to her English classes, Stanton is also a co-sponsor of the LZ yearbook.
"It has been a great way to see a different side of students," Stanton said.
Stanton is also a volunteer for the Literacy Committee that meets once a month. The Literacy Committee meetings are dedicated to discussing how to improve the English curriculum for students.
"You are going to use English no matter what you chose to do or not do," Stanton said. "It's crucial to be well educated in English because it's a fundamental for any career."
By following her intuition, the career choices Stanton has made has lead her to LZ to do what she has always pictured herself doing.
"Teaching gives me the opportunity to positively affect young adults," Stanton said. "The best parts about my job are seeing kids get excited about reading and writing and making connections inside and outside of the classroom to what I've taught them."