Cobra Starship's new album is a success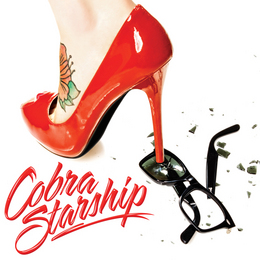 .
January 13, 2012 • Sara Pardej, Entertainment Writer
Filed under Entertainment
Cobra Starship's new album, proved to be their best one yet: catchy beats, love and dance songs all mix together to make the perfect blend.
Cobra Starship, known for their hit single "Good Girls Go Bad," released their newest album, Night shades, in late August 2011. The album features the single "You Make Me Feel," featuring Sabi, which peaked at #7 on the Billboard top 100.
Night Shade's most catchy songs were the slower ones, with more beats.
"Anything For Love," which included parts from Meat Loaf's "I'd Do Anything For Love," was a sweet love song. The song was much slower than what Cobra Starship usually released, however, the lyrics and beats made it work.
"You Belong To Me," another love song, started off quite slow, but sped up eventually. The lyrics are adorable, but the sound of the instruments was very different. Cobra Starship used what sounded like a piano, and incorporated their own beats. The idea was risky, however, they managed to pull it off.
Although many songs were love songs, "Fool Like Me" was humorous. The song seemed like Gabriel Saporta, lead singer, was singing about his adventures of screwing things up with a girl. He sings about how her family did not approve of him and how he was sorry for the dumb things he did.
The only downfall of the album would be the song "Middle Finger." The song featured Mac Miller, rapper, which with Cobra Starship was an odd combination. The song was awkward and hard to listen to.
Night Shades deserves five out of five stars for the great mixture of songs. Cobra Starship's newest album should be on your check out list for the next time you want new songs.